SNIFTY® INTRODUCES ECO-FRIENDLY SCENTED PENS AND PENCIL TOPPERS FOR SCHOOL FUNDRAISING

Scented pens and pencil toppers feature breakthrough natural plastic for unique fundraising opportunity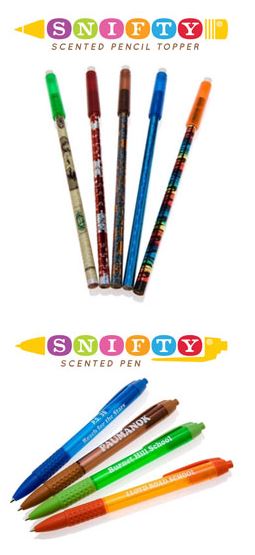 LINDEN, N.J., – (January 15, 2010) – SNIFTY®, maker of scented consumer products, has introduced a unique fundraising program that features American-made scented pens and pencil toppers using Auracell®, a natural plastic that can encapsulate long-lasting scents.
Targeted toward kids of all ages, SNIFTY limited-edition scented pens and pencil toppers feature fun fragrances that come in exclusive, collectible scents. The scents can be found in the tip and grip of the pen, as well as the pencil topper. Both of the products are part of a one-of-a-kind, affordable and easy-to-manage school fundraising program.
"As schools look toward fundraising to augment their budgets, SNIFTY offers unique, easy-to-promote fundraising products that have never existed before," stated Robert Coopersmith, President of SNIFTY.  "Schools have never before been able to promote such low-cost, high-margin, scented products that are made in the U.S.  Because these are tools students can use in the classroom, teachers, program directors and principals recognize this as an exceptional fundraising program."
Each pen can be custom imprinted with a school's name, offering an additional benefit to schools looking for stronger alignment with these breakthrough products.
The first four SNIFTY pen scents introduced exclusively for fundraising are:
Tropical Fruit Punch
Watermelon
Chocolate Chip Cookie
Birthday Cake
The SNIFTY pencil toppers come with a decorative pencil and eraser, and can be used with other pencils for broader appeal.  The first five SNIFTY pencil topper scents include the identical scents offered with the pen collection, with the addition of Strawberry.
Each scent will be available for a six-month period. SNIFTY will regularly introduce new scents and new designs, including seasonal and holiday editions.
The tips and grips of SNIFTY pens are made with Auracell, a breakthrough, scented plastic developed by Rotuba, an American-based custom extruder and compounder. Auracell's inherent breathability enables the plastic, derived from sustainable resources, to be encapsulated with a variety of fragrances, which the material continues to emit for long periods.
This longevity is particularly beneficial when developing products that capitalize on consumer trends toward scented products.
"There has been a dramatic increase in demand for scented products over the last decade," said Adam Bell, President of Rotuba.  "The SNIFTY scented pens and pencil toppers are able to meet this demand as part of a fundraising program not only for schools, but also for any charity, religious group or organization interested in offering memorable, breakthrough products."
As part of its commitment to kids and to communities, SNIFTY will donate a portion of its school fundraising proceeds to Shriners Hospitals for Children.
For more information on the SNIFTY scented pen and pencil topper fundraising program, people can visit www.SNIFTYPEN.com to find a distributor in their area.
About Rotuba
For more than 60 years, Rotuba has been an industry leader in custom compounding, with its brands including Auracell™ and Naturacell™. Today, Rotuba is at the forefront of the shift to a greener industry with Auracell, a polymer derived from trees and cotton that can incorporate long-lasting scents.  Auracell can be reprocessed, recycled and reused in most applications, making it a smart choice for manufacturers looking to meet increasing green demands around the world.