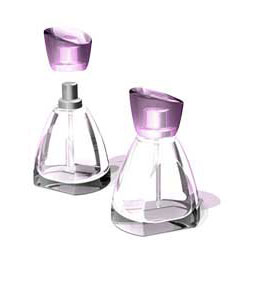 Un-common 'scentz'
Ten years ago cell phones were unusual enough to make people stare. Cell phones now are the most common and familiar of every day items. But familiarity isn't for everyone — especially in electronics, the most fashion-conscious of markets where consumers want to display their individuality with innovative cell phone covers and other communications accessories.
foneGEAR of Rochester Hills, Michigan, is committed to helping its customers do just that, offering an ever-evolving range of cell phone skins. The company's latest line, foneScentz™, has appeal far beyond the visual. It's the first cell phone accessory to connect with one of our most powerful senses – smell.
Designed for Motorola's popular RAZR™ phones, foneScentz features Auracell scented natural polymer, developed by Rotuba based on Eastman's family of Tenite cellulosics
"The most exciting accessories are fashionable, rather than purely functional," says Jonathan Stein, marketing manager for foneGEAR.
"The most exciting accessories are fashionable, rather than purely functional," says Jonathan Stein, marketing manager for foneGEAR. "People buy products that speak to them and say something they identify with. And this is certainly where scented products live. The material gives us cute colors, tactility, and adds a level of excitement that can distinguish us in the marketplace."
Stein says RAZR was selected because "it's a phenomenally successful phone" with a "style-conscious customer base that loves the phone's design." He expects the foneScentz line to expand once the RAZR skins prove successful.
The clamshell packaging for foneScentz includes a push-tab that allows consumers to sample the fragrance before buying.
The foneScentz skins come in five fragrance and color combinations: aromatherapy (dark green); vanilla (pink); chocolate (brown); raspberry (red); and piña colada (orange).
Rotuba provided a range of fragrances for foneGEAR to evaluate. "We picked scents that we think people will find really pleasant to be around," Stein says. "Fragrance is highly subjective. The smells you like are all about personal taste. We tried to find a common ground and offer enough of a range to ensure that there is something for everyone."
A major requirement for the colors was that they look good against the black or silver of the RAZR.
"We looked at the material and sensed the potential for something that has never before been applied in our industry," Stein says. "The possibilities for the next generation of scented accessories are huge. It's very, very exciting."
The cell phone has gone from revolutionary to common place. And now with scented accessories, you can smell another revolution coming.