SNIFTY® DEBUTS LATEST LIMITED EDITION SCENTED PENS AT 2010 AMERICAN INTERNATIONAL TOY FAIR
Product features eco-friendly Auracell® plastic for long-lasting scent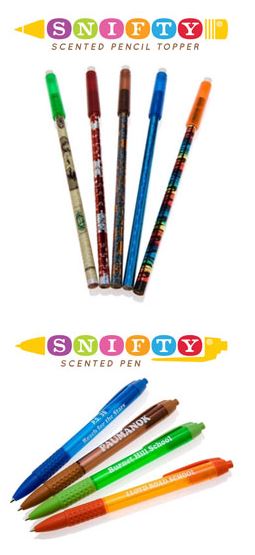 LINDEN, N.J., – (February, 2010) – SNIFTY®, a maker of scented consumer products, will unveil its latest retail line of limited edition scented pens at the 2010 American International Toy Fair, February 14 – 17, Javits Convention Center, New York. The American-made line of scented pens features Auracell®, an eco-friendly plastic that encapsulates long lasting scent. For samples or additional information, visit SNIFTY along with distributor, International Arrivals, at Booth # 5740
SNIFTY's limited edition scented pens feature fun flavors including its' most recent addition, the Ice Cream line, which is debuting at the show. SNIFTY, following this year's Toy Fair, will continue to introduce retailers to new scents and designs every six months.
"Our SNIFTY pens allow retailers to meet consumer demands for scented products," said Robert Coopersmith, President of SNIFTY." And with collectible, limited-edition fun scents, retailers can offer SNIFTY pens to the discerning yet highly influential tween market.
The tips and grips of SNIFTY pens are made with Auracell, a breakthrough, scented plastic made from sustainable resources. Auracell's inherent breathability enables the plastic to be encapsulated with fragrance that lasts for long periods of time.
"We began the development of SNIFTY pens in 2009 to create a scented pen unlike anything else on the market," said Adam Bell, President of Rotuba, the New Jersey-based developer of Auracell. "The longevity of the scent, the use of sustainable resources, and the collectability factor make these pens an outstanding value to consumers, and something we're sure retailers will want to include on their shelves."
The initial rollout of SNIFTY pens includes collections featuring fun fragrances, though there are plans to develop an aroma line geared toward adults with scents including mocha latte, cucumber melon and lavender.
The American International Toy Fair is the largest toy trade show in the United States. Manufacturers, retailers, importers, licensors and reps visit from around the world for the latest and most popular products in the children's entertainment marketplace. For more information on the SNIFTY limited edition ice cream scented pens or other available scents, please visit http://www.sniftypen.com/retailmain.html
About Rotuba
For more than 60 years, Rotuba has been an industry leader in plastic compounding, with its brands including Auracell™ and Naturacell™. Today, Rotuba is at the forefront of the shift to a greener industry with Auracell, a polymer derived from trees and cotton that can incorporate long-lasting scents. Auracell can be reprocessed, recycled and reused in most applications, making it a smart choice for manufacturers looking to meet increasing green demands around the world.